Content provided by Atlantic Group dd
Different daily situations present different eating challenges. Too often, daily tasks and lack of time force us to use fast foods, even less healthy ones. Most often, there is a lack of time to eat a snack in peace, so it is much more convenient to enjoy a snack. But snacks can be healthier and healthier foods in addition to convenience. In winter, we need to take even more care of a complete diet, as winter activities require more energy and nutrients.








Delicious snack before and during working hours or after
It is important to feel good about doing your job effectively. The meals we enjoy during this time certainly contribute to this. Working hours are becoming more prevalent throughout the day and lunch breaks are usually short. The availability of tempting foods around us, the limited cooking opportunities to prepare a healthy lunch, and the need to eat something fast during lunch time can mean we consume a lot of junk food every day.
Unhealthy daily diet leads to maltreatment and fatigue, and the result is that it is more difficult and less successful to perform daily duties. There is nothing wrong with appetizers if they give us energy, but they should not slow us down. With a little planning, almost any snack we enjoy during the day can be a healthy and wholesome meal.
In the continuation of the article we present you simple ideas for healthy foods that can be prepared in advance and eaten during the day.
Totally Oat Boom Box – with small and quite simple steps towards a balanced diet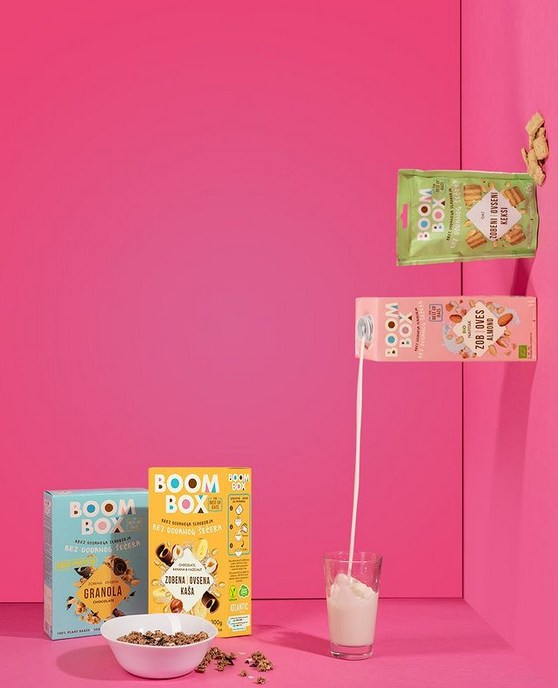 Oat-based products help you easily find the path to the healthy changes you have long wanted. Boom Box oat products have a full flavor, are sugar free and added flavor and are based on 100% herbal ingredients.
Fast, practical and healthy meals can accompany you everywhere – for breakfast, lunch, when there is no time for lunch or when you are hungry along the way and after any intense exercise, when you need something to regain energy and recovery. faster after training. .
Nutritionists were involved in the development of Boom Box products, adding oats as the main ingredient. It contains beta glucan, minerals and fiber, is suitable for all diets and is beneficial for digestion. The best part is that you can combine and complement it to your liking.
When Boom Box becomes your daily companion, "health" gets great taste and an attractive aroma.
Integral porridge that warms us on cold days
A creamy and delicious dish that enlivens us in the winter days is a good idea for anyone who wants a healthy and wholesome meal but often lacks the time to prepare. This perfect porridge can be prepared in sweet or salty versions and combined with a wide variety of ingredients. Use the basic recipe below and add fruits, vegetables, seeds, nuts, herbs … to your liking.
This porridge is also suitable for storage in the refrigerator, so according to the basic recipe we make it in larger quantities and combine it with different additives every day. Simply warm up again and add the oatmeal drink for a perfect creamy texture.
Almonds like to brag that they are super stars among the nuts, so they have become part of their drink with lots of BIO oats. Sometimes it is difficult to decide if oats or almonds are best. You now have a medicine that allows you to choose both. A wonderful creamy drink with an irreplaceable taste.
Warm to cold, cool for refreshments – always a good time for oats. True oat harmony creates delicious combinations with other Boom Box products as well. You can use them in any morning coffee, porridge, dessert, with or without filling in your favorite glass. Get ready for love in your first sip!
Get acquainted (gain, obtain) with present-day techniques that came from BIO Oatmeal
Healthy and pleasant creamy drinks, excellent for creating delicious combinations with other Boom Box products. They are all 100% plant-based, rich in fiber, with no added sugar and artificial colors and flavors.
Basic recipes for oats
Soak a cup of oats overnight in slightly salted water. In the morning drain the water and wash the flakes well. Then mix the flakes approximately in a blender. Pour into a medium-sized container and bring to a boil, stirring frequently to prevent sticking. Cover the pot and simmer on low heat for half an hour, stirring occasionally so that it does not stick until the grains are soft and the porridge becomes creamy.



Photo: Envato


The sweet version of oats
We need:
drink oatmeal with almonds
minced apples
a pinch of cinnamon
spoons of honey
Preparation procedure:
Follow the instructions above to prepare the base oats. When thickened, mix in an oatmeal with almonds and grated apples and cinnamon. Leave on the fire for only a few minutes and mix all the ingredients well. Serve and pour with a large spoonful of honey. Add raisins and almonds if desired. A sophisticated combination that will calm us down, nourish us and prepare us for any challenge that awaits us.
You can greatly simplify the recipe. Mix oats with apples and cinnamon and oats with almonds. Warm up and a delicious meal is ready in an instant.
Salted version of oats:



Both sweet and savory fillings are added to oats.
Photo: Shutterstock


We need:
drink oatmeal with almonds
chopped pistachios or other nuts
pinch of salt
sliced ​​avocado
small chopped onion
sesame seeds
parsley
Preparation procedure:
When the oats are prepared according to the basic recipe, add a little salt and a little oatmeal with oats for a more creamy texture. Stir in the minced and fried onions, parsley and sesame seeds. Mix everything well, serve and garnish with sliced ​​avocado.
A nutritious drink that restores energy
We need:
2 cups oatmeal drink
1 banana
2 tablespoons grated dark chocolate
1 tablespoon honey
a pinch of minced vanilla tail
Preparation procedure: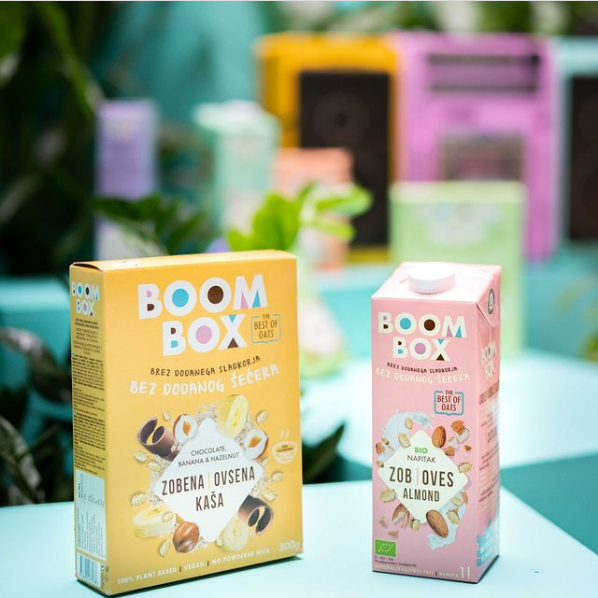 Make a complete quick meal with a combination of BoomBox products.


Mix all the ingredients together in a blender and the meal is ready to eat. Due to the content of carbohydrates, fiber and protein in almond oatmeal drink, smut is also suitable for faster regeneration after intense exercise.
Or mix Boom Box protein oats with bananas and chocolate with almond oats. Whether you are exercising or just looking for a protein rich meal, this combination is your best friend on the road to healthy habits.
.