Cold and shorter days that require home baking and freshly baked bread from the home oven definitely offer the warmest atmosphere we can create in our home. This is a recipe that does not require a lot of work or knowledge for baking, just a little more time to prepare, as the dough rises overnight (to get an even better taste and a more pleasant and smooth core) , and in the morning form a noodle or. pumpkin, let it rise a bit and then bake aromatic homemade bread with a golden and extremely crunchy brown crust and a soft core. This is a classic doughless bread recipe, which I slightly improved and added an autumn color, as it is prepared with a little rye flour and various seeds, which gives an even more pleasant and fuller taste. For a charming fall look, the peta is formed into a real "fat" pumpkin.
We also recommend: Classic with Urška Fartelj: stuffed chicken breasts
mocha
It is prepared for bread with soft flour completely ordinary, but of course its use for bread is recommended. If we choose cereals, we need to add more water.
yeast
I prefer to use dry yeast, as it has a less intense flavor compared to fresh and the preparation is even faster.
Growing
If the dough is to rise for more than 18 hours, it should be placed in the refrigerator; so we can let it rise for up to three days (the dough will only have even more flavor).
An alternative to cast iron dishes
If you do not have a cast iron casserole with a lid, you can also bake bread with crispy crust by placing a casserole with water at the bottom of the hot oven, which will evaporate during baking and the steam will take care of the crunchy. kore. However, you can simply spray the preheated oven well with cold water to create steam.
Baker
If you do not have a cast iron casserole, you can place a piece of dough with baking paper and bake it in an ordinary baking tray or on a pizza stone, using one of the previously mentioned methods for preparing steam.
forms
From the dough we can prepare different forms of bread.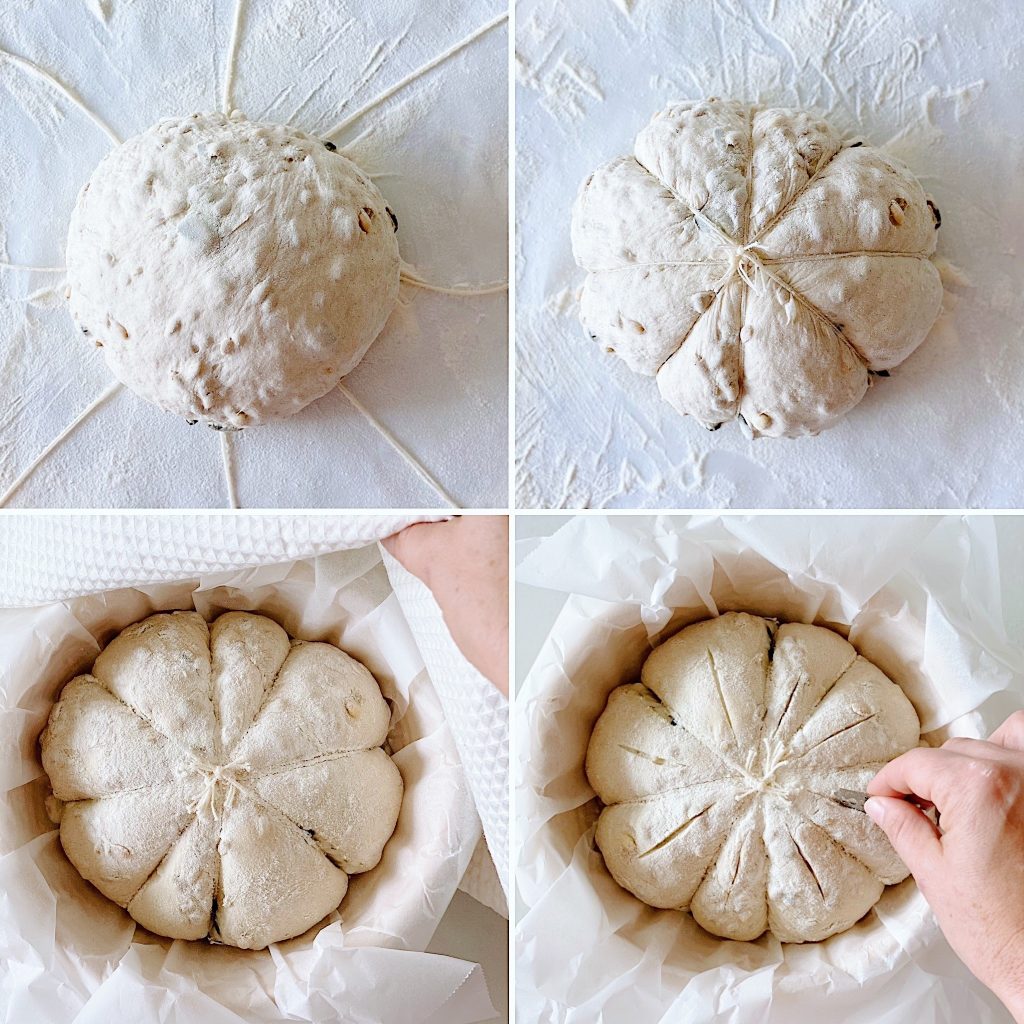 You can also add spices or minced spices or minced parmesan and the like to the dough.
Pumpkin bread autumn
400 g flour (plain soft, even better for bread)
50 g rye flour
teaspoon dry yeast
2 teaspoons salt
120 gr seed mixture (sunflower and pumpkin seeds, pine nuts)
350-400 ml cold water
Another
thicker string (4 pieces or optional)
cinnamon stick (for pumpkin stalk)
Preparation
In a large bowl sift the flour, add the yeast, salt, seeds and water and mix well to combine the ingredients. A piece of sticky dough will form (if it is too dry, add water drop by drop, the dough should be sticky).
2. Cover the container with a transparent paper and let it swell overnight or 12 to 18 hours to double the amount, then roll it out of the container on a floured work surface and mix it very lightly on top.
Form the dough into a ball or noodle by rolling the edges towards the middle until you get a more toned noodle, which then turns (this shaped dough can be covered with a napkin and wait 10 minutes for the gluten to cool. Bit, but you can continue the procedure even without this step).
4. Prepare cords about 60 cm long, which are immersed in oil. Place the baking paper on the work surface, lightly dip it and arrange the threads so that they cross in the middle.
5. Embrace the dough noodle with your palms and turn to get a nice round shape. Then, embracing it with your palms, push a few more times and slide towards you to make the surface even tighter and the bread more compact.
6. Then place on floured baking paper; place these evenly on the bread and tie in the middle so tightly that you have the look of a pumpkin. Then lightly dip the bread on top. Grasp all four edges of the baking paper and place them all together in a round bowl, cover with a napkin and let rise for another 30 to 60 minutes.
7. Meanwhile, preheat the oven to 230 degrees and place a cast iron skillet with a lid to heat well (which requires at least 30 minutes).
8. When the pumpkin slice has grown and the oven is fully heated, make a few drops on the surface of the slice with a sharp blade (if you do not, the bread will crack on its own).
9. Carefully remove the preheated pan from the oven and carefully place the noodles in it, together with the baking paper, cover with a lid and place back in the oven.
Bake for 30 minutes, then remove the lid and bake for another 10 to 15 minutes to give the bread a nice crispy crust in golden brown.
11. Cool the bread on a wire rack, remove the strands and for a better view of our bread squash in the middle, instead of the stalk, place a stick, e.g. cinnamon.
Tip: It stays fresh for two days, it can be frozen even in the freezer.
We also recommend: You will love to prepare this chicory and apple in a salad