Baked Stefani is a classic of Viennese cuisine and a very popular dish in our country, almost indispensable on holidays and family holidays. We will prepare it according to a recipe that comes from the famous Viennese restaurant Plachutta.
Štefka, as we like to call it at home, is a roast stuffed with mixed minced meat. In Slovenia we usually prepare it only with eggs, but there are also versions with pickles, even hot dogs. It has a very pleasant, juicy and soft taste, so it is no wonder that all generations adore it. The most common side dish to this divine roast is mashed potatoes. It is traditionally served with a sauce made from its own juice, but we like to eat it with creamy spinach.
We also recommend: Rost with reverse baked lungs, which will be soft like buttermilk
We need to know this about meat and roasting
A mixture of equal parts beef and pork is best. We choose the shoulders because they are intertwined with fat and a thin layer of binder and therefore the meat is softer, softer and juicier. Let the butcher grind it twice so that the roast has a nicer texture at the end and is finer until the bite.
The meat should be kept at room temperature for at least half an hour before use, as this will preserve its liquidity.
Before baking, add the liquid (shoulder base or water) to the pan, about half to one finger high. During baking it is watered several times with its own liquid.
Behind the top, you can cover it with bacon or wrap it with pork net.
Cover the baking with aluminum foil during baking and uncover it 20 minutes before the end, so that it gets a good golden brown color on top.
Why bun?
Traditionally, a one-day bun or slices of old white bread are used. In modern times, we almost always have crumbs on hand, so we can completely replace the old bread with them and the baking structure will be better in this case.
I prefer to use bread or bread because the look and bite of bread in the roast looks special to me… You can also try other alternatives like crushed crackers, finely chopped almonds or walnuts, crushed oats, parmesan, quinoa, flour etc. si.
The meat mass should be soaked 10 to 20 percent and, if necessary, bread crumbs or bread crumbs should be squeezed. We usually use milk for soaking, but we can also choose the base of the soup or water, as it binds to a portion of the meat protein and therefore the meat mass is cheaper, more flexible and better bound to the noodles.
It is recommended to add soaked bread only after we have kneaded the meat well and it has become fibrous.
How to get the yolk exactly in the middle of the egg?
Here's a trick: for the first five minutes of cooking, stir constantly or turn the eggs gently. Then pour hot water over the cooked ones and add cold water, so they will stop boiling. They peel more easily from the wide part to the narrower one.
Design tricks to prevent cracking
In this step, it is important to have cold water ready, dip your hands in it and squeeze and smooth the meat from the bottom up together to get a piece of smooth, narrow and long meat (stretching up at the bottom of the pan, about 25 cm).
Flatten the top well with wet hands and make sure there is a thick layer of meat on top of the eggs, at least one finger, which is well glued and polished together with wet hands, so that the baking does not crack on top. Properly mixed ingredients are also important for this.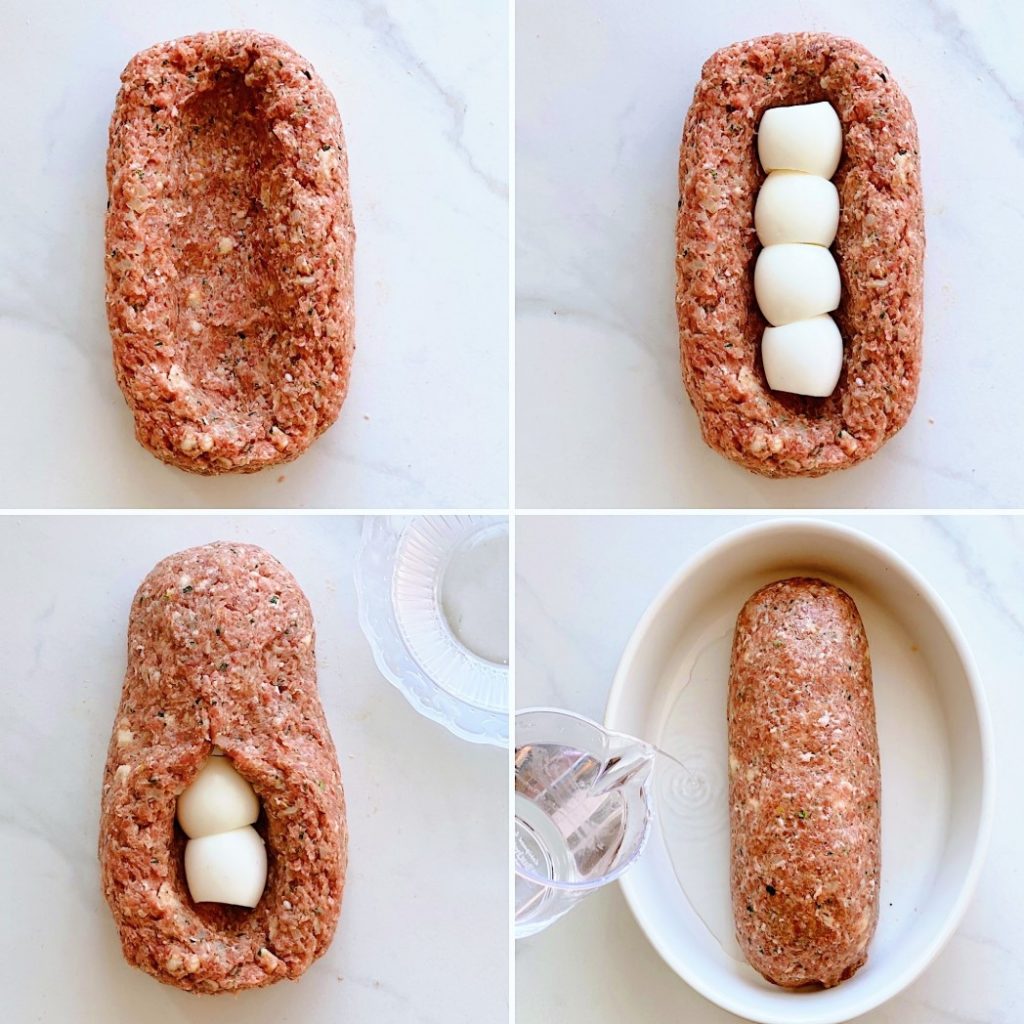 To be refilled or not?
You can cook without everything, but in the meantime watch carefully, because the meat slowly removes fat or juices and if they are not enough, add a little broth or water and be careful not to burn the end of baking. During baking, the steak can be tossed several times with the liquid that has accumulated in the baking pan.
What should be the baking temperature?
175-180 degrees. Lower temperatures help roast meat to be softer. However, if we want a more ripe and crunchy crust, we simply increase the temperature and shorten the baking time.
A pound of roast stefani is supposed to bake in about an hour, but that depends on the oven as well as how much baked we want it to be. Otherwise the roast is baked when the temperature inside it reaches 160 degrees (measured with a thermometer).
If there is anything left
Baked stefani is also great the next day, or even better then, as the flavors bond even more. Can be stored in the refrigerator for up to three days. If not fully consumed, it can be recycled into other dishes: spaghetti sauce, various pies, soups, sandwiches and the like.
But it can also be frozen, both raw and baked. In this case, wrap with a foil suitable for freezing food; when needed, thaw completely in the refrigerator, then heat or bake. However, be careful to remove the eggs before roasting, as melted egg whites are rubbery and "watery"!
Roasted Stephen
600 g of mixed minced meat, equal parts of beef and pork
60 g or 1 bun (about a day)
120 ml of milk or water
50 g plain brown onion or 1 medium onion
spoons of parsley
2 cloves garlic
egg
spoons of dried basil
half a teaspoon of dried thyme
spoons of salt
pepper
3 tablespoons oil (pan for pan, other for casserole)
SATURATION
dressing
teaspoon polished flour
beef broth (beloved) or water
Preparation
1. Preheat the oven to 180 degrees.
2. Put 4 eggs in cold water and simmer on low heat for 8-9 minutes (and not even a minute more!), Then add the dill, add cold water and let the eggs cool.
3. Break the bun, soak it in milk (or water) and let it soak well, then mix it well or puree it.
5. Fry the finely chopped onion until it becomes glassy. Add the minced parsley, mix and finally add the minced garlic and fry for another minute for everything to smell nice. Set aside and allow to cool.
In a large bowl, place the minced meat and chilled mixture of onion, parsley and garlic, egg, basil and thyme, salt and pepper to taste. Mix well, preferably by hand, so that the ingredients come together well, but not too much so as not to lose a light texture. Finally add the breadcrumbs and mix them again by hand to get a fine mass, a little more compact, but still easy enough to form nicely.
7. Roll the meat mass on a lightly oiled work surface and with wet hands form a noodle (approximately 22-23 cm long); make a wide cut or "channel" along the length of the palm.
8. Peel the cooled eggs, rinse and rub and trim the edges so that they are more firm and that the yolk shines from each slice of meat. Fold over the meat so that they are in close contact with each other.
9. Then with wet hands close the canal well with the meat mass and roll the noodle in a not very greasy pan where you give it shape to the end.
10. Add broth or water to the baking dish for a bad finger (if you want to serve it roasted with sauce at the end).
Bake for an hour or about 15 minutes more or until the roast takes on a nice golden brown color and the meat temperature reaches just over 70 degrees. Then the baked layer is covered with aluminum foil for 10 minutes to cool a little meat or "squeeze" together, as then it is cut easier and more beautiful. Cut slices about 2 cm thick.
12. Prepare the sauce: drain the fat and excess juices from the pan, sprinkle with flour and fry a little, pour over the liquid (soup or water base) and simmer until reduced.
13. Baked stefani is traditionally served with mashed potatoes and a sauce made from its juice, or a little more Slovenian with creamy spinach.
Did you know: Roast Stephanie was named after the Belgian Princess Stephanie, the wife of the Austro-Hungarian heir to the throne, Prince Rudolf (19th century). Prior to her arrival in Vienna, several cookbooks described the dish as a Jewish roast, a classic of minced meat, without eggs and pickles.
Read on Deloindom.si: 3 tips to make daffodils stay longer in a vase