What is ragout anyway? If I quote s. Felicito Kalinšek, is a group of dishes "in which chopped or minced meat (including fish or vegetables) is cooked in a spicy sauce". Most of us know that beef and veal ragout, pork and venison are a little less popular, fish probably even less so. And, surprisingly, if I look at my new Great Slovenian cookbook, which Santa Claus brought me and I read it with all my interest, I can not find at all a recipe for chicken ragout in it. But there is a small sea with thousands of pages. Isn't there a recipe for boiling chicken?
Maybe it's a form of decoction? No, boiling is not the same as boiling. We usually do this with flour – well, at least sometimes we always do, but in the modern world some people are more afraid of flour than crowns – and a little less often, i.e. with more "water", and whole pieces of chicken meat are. cooked in paprika. Sometimes (at least in our house we like it that way) we enrich it with a sweet cream and flour base, again elsewhere, especially there towards the border with Hungary, it is rarely served almost as a soup and absolutely without cream. My father, originally from Strehovec in the municipality of Dobrovnik (almost on the Hungarian border), loved a man. And very greasy. And it is similar to beef, rabbit or chicken.
Ragu, on the other hand, is a thick meat sauce with vegetables (usually carrots, which are not found in paprika). It is most often seasoned as a bolognese sauce (thyme, oregano, rosemary – perhaps depending on the region and type of meat), while basil and bay leaves are preceded by paprika. But perhaps even here it depends more and more on the region.
meat
Cut the meat into smaller pieces, add salt and fry on a slightly higher heat so as not to release too much water. We want it to be juicy in the sauce. Therefore in ragout we do not use fat-free chicken breast, which would function more like sawdust in sauce, but meat from the thighs. And we do not put garlic before it is cooked because it would make it bitter. This will give more flavor.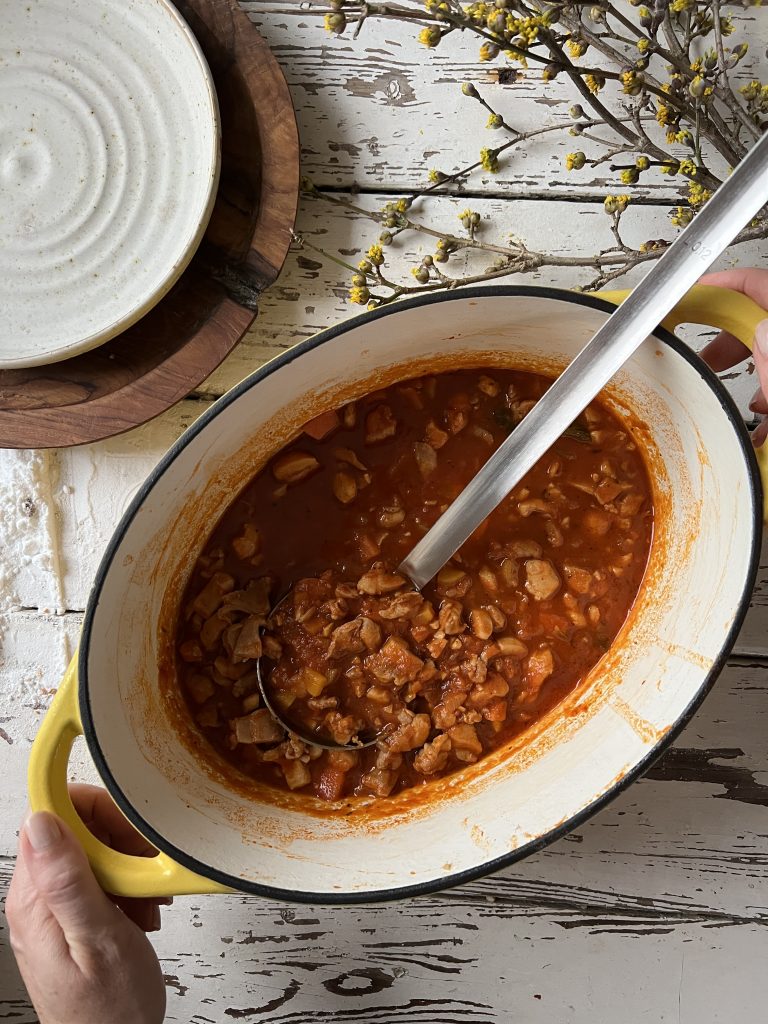 pasta
Of course, to cook them al dente. Strong to the bite. Let the jaws work a little during lunch. Cook them in boiling salted water. For every 100 g of dried pasta we need a liter of water and a teaspoon of salt. For a family of four, these are 400 gr of dried pasta, which are cooked in 4 liters of boiling water, to which we have added 4 teaspoons of salt.
Chicken stew
700-800 g chicken thighs (boneless)
1 large yellow onion
3-4 cloves of garlic
2 larger carrots
spoons of tomato concentrate
spoons of ground red pepper
100 ml of tomato sauce
100 ml dry white wine (sauvignon)
a teaspoon of Provencal herbs
olive oil, salt, freshly ground pepper
For serving
Preparation
1. First, fry the finely chopped onion in olive oil. Bake slowly on low heat, about 15 minutes, to digest but not brown.
2. Add the roasted onions to the finely chopped carrots and quickly fry them all together. Then add the sliced ​​chicken, garlic and fry again.
3. When the meat is fried in light brown, they come in the type of spice: I use a Provencal spice mix, which also contains thyme, oregano and rosemary. But you can use any tip.
Squeeze the tomato concentrate over the meat, add the ground red pepper (always on the meat so that it does not heat up in the hot fat when adding other spices) and mix all well and fry gently. So much so that the spices embrace the meat.
5. Immediately add the wine, tomato sauce and as much water as the meat is almost covered. Rinse the jar that had the tomato sauce and so on. Pepper, add salt if desired.
6. Cook the covered ragout on low heat for about an hour so that the meat is tender and pliable, which for example we will not achieve with chicken breast. Do not cook for too long so that it does not dry out.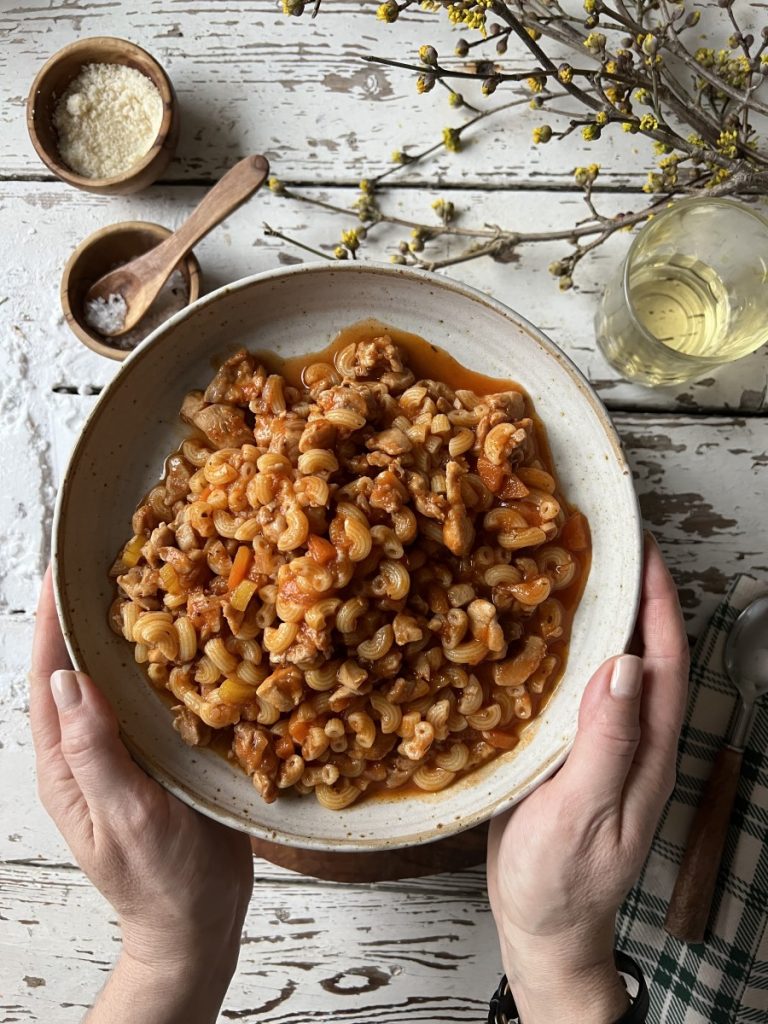 Serve the pasta stew. We usually see wide noodles. We love mini pasta so that ragout sauce gets caught in all those holes. To cover with a large spoon.
We also recommend: Weekly menu: fast and cheap lunches