Okay, maybe its outside is not really the most beautiful, but its inside is even tastier: an earthy scent drawn from nuts and a strong scent. So much so that many consider it a favorite winter vegetable. How can it be otherwise, when it is so versatile: we can boil it, turn it into (cream soup) or a delicious puree, we can even bake it whole or sliced, we can fry it like chips, we can we eat raw. , one, two, three and crunchy, liquid salads is on the table.
Cream soup
For 4 people
100 g of bacon
teaspoon butter
olive oil
larger onions
Laurel leaves
tuberous green thyme
100 ml whipped cream
Heat some olive oil in the shrimp and fry the bacon pieces to make them crispy. Transfer to a plate. Pour butter into the same shrimp, add minced onion, bay leaf and a pinch of thyme, cook until onion is softened. Meanwhile, clean and peel the greens, cut them into pieces and add them to the shrimp. Cook for two minutes, then add 800 ml of water or broth base and simmer for 10 minutes to soften the vegetables. Pour the cream, bring to a boil, remove the bay leaf and mix with a stick mixer until homogeneous.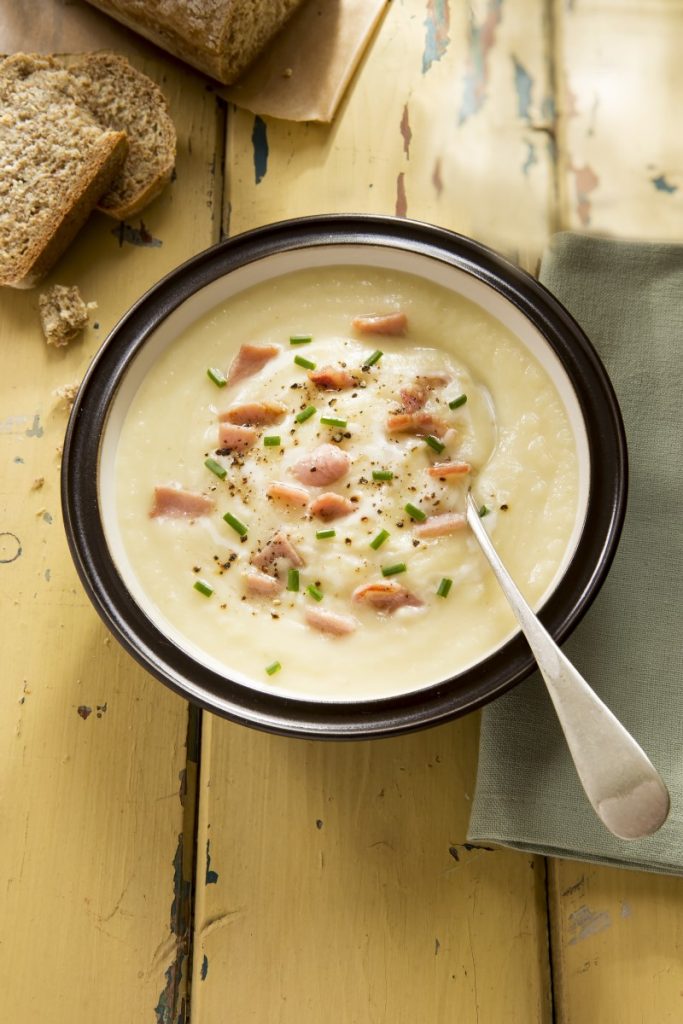 Grated vegetables
For 4 people
420 ml whipped cream
350 ml of milk
2 cloves garlic
spoons of minced rosemary
spoons of mustard
500 g of greens
500 g potatoes
Pour the milk and cream into the shrimp, add the sliced ​​rosemary and garlic and bring to the boil. Let's push it. Meanwhile peel the potatoes and greens and cut into thin slices; should have the same thickness. Pour a little juice into the pan, put a layer of celery, salt and pepper, pour a little juice, put a layer of potatoes, arrange and continue with layers, finish with potatoes. Pour the remaining liquid and cook for an hour and a quarter to soften the vegetables (check this with a knife) and cook until golden. Let stand in the oven for five minutes before serving.
Chips
For 4 people
4 medium parsley
smaller tuberous green
medium sweet potatoes
4 egg whites
200 gr flour
2 tablespoons minced onion
a little parsley
1 teaspoon mustard
salt, pepper
1/4 teaspoon baking powder 4 eggs
Peel and grate the vegetables and squeeze well to squeeze out the excess liquid. Then mix in the flour, chopped parsley and chickpeas, beaten egg whites and salt to combine all. Form into eight halves. In a large skillet, heat a little olive oil and fry, 2-3 minutes on each side, until golden and crispy. We do not overcook the pans. Heat the water in a saucepan and fry the eggs for about three minutes, the yolks should remain liquid. Remove with a whisk and drain on a paper towel. Serve with frying pan.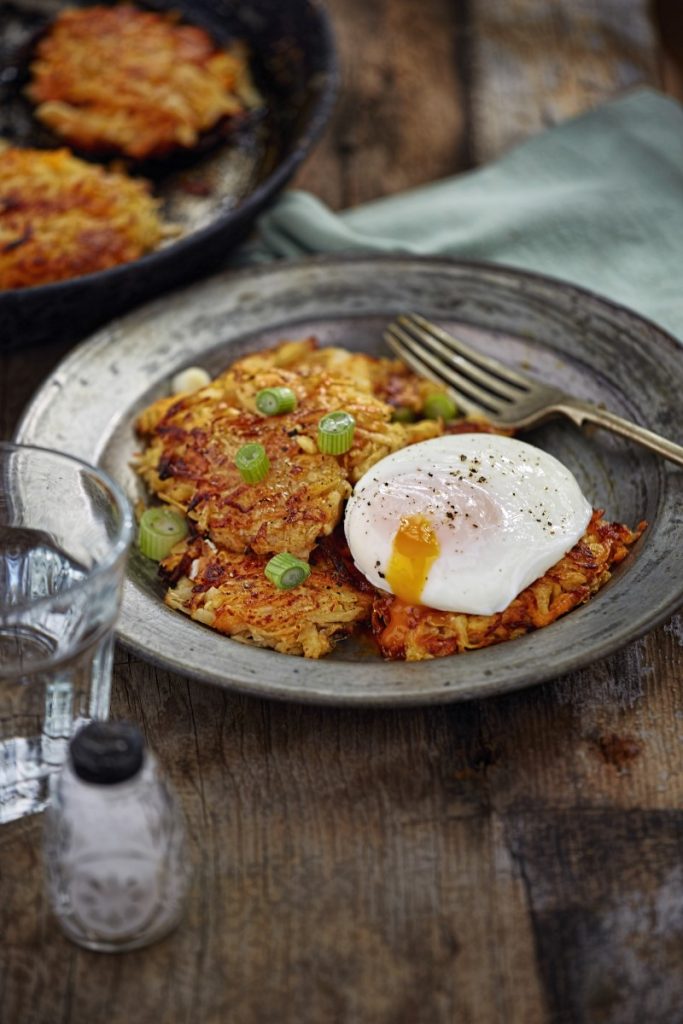 Quick salad
For 4 people
500 g celery tuberose
a little pickled
2 lemons
6 tablespoons light mayonnaise
spoons of mustard
a pinch of sugar
salt, pepper
Peel a squash, grate it and slice it into thin slices. We put it in a container, pour a deciliter of cold water and the juice of a lemon so that it does not darken. Mix well. In a bowl, mix the topping: mayonnaise, mustard, half lemon juice, sugar, salt and pepper. Cut the cucumbers into small sticks, drain the greens, add the cucumbers and top, stir and leave for about half an hour before serving. If you want a little color in the salad, you can add sliced ​​carrots and dill.
Salmon with mashed potatoes
For 2 people
250 g of vegetables
250 g potatoes
handful of yarn beans (frozen)
3 tablespoons bread crumbs
FLUID
half orange
2 teaspoons mustard
2 salmon fillets
25 g soft cream cheese
Peel a squash, grate it and chop it in half. Cook for about 20 minutes or until vegetables are tender. Cook even tighter beans in the same pan for about 15 minutes. Preheat the oven to 220 degrees. In a bowl mix the bread crumbs, a tablespoon of orange juice and a half tablespoon of mustard. Lay a baking tray with parchment paper, place the fish on top, sprinkle with the rest of the orange juice and coat with the mass. Bake for 15 to 20 minutes, depending on the thickness of the fish. Drain the vegetables, add the rest of the mustard and sr cream and mash into a puree. Serve with fish and beans.
We also recommend: The best tricks to make the decorations always excellent
RO
Cover photo: Lilechka75 / Getty Images